Hurricane Florence Update From NCDA&CS (9/14/18)
Find this article at:
go.ncsu.edu/readext?551831
This newsletter contains important information from the North Carolina Department of Agriculture and Consumer Services Veterinary Division in regards to Hurricane Florence. Please share this newsletter with others as appropriate. To subscribe to this newsletter, please send an email to the Veterinary Division's general email account, Joe.Web@ncagr.gov.
Emergency Management Weather Tracking
The storm has stalled sooner than anticipated and may take longer to traverse the state increasing the chances of more rain.
Tornadoes have been spotted throughout the night in various areas of eastern North Carolina. The threat of flooding and wind damage remain very real. Power may be out in areas for days or longer, depending on how long the storm takes to move out of areas.
In all situations, err on the side of your safety. Don't traverse water of unknown height or moving water in the road. Stay tuned-in to your local forecasts and heed official warnings and recommendations for your safety.
Click here for the full report.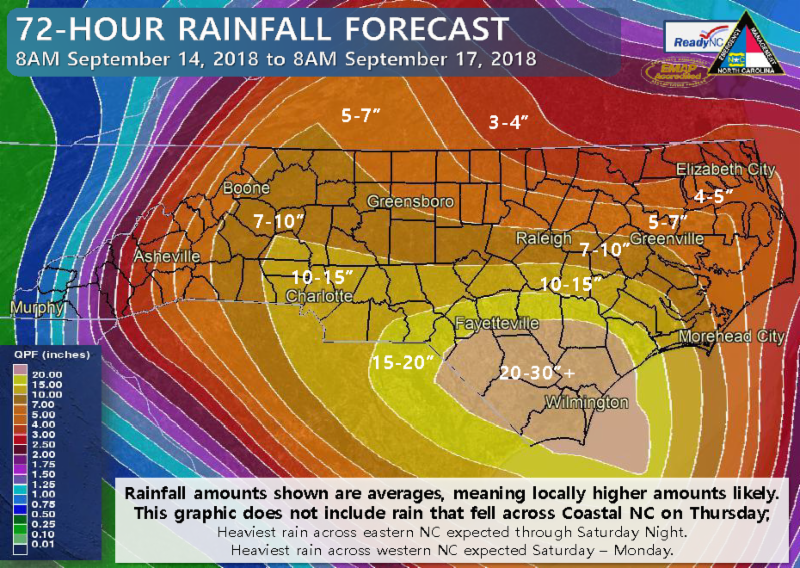 N.C. Department of Agriculture and Consumer Services Emergency Hotline
For emergencies, please call the North Carolina Department of Agriculture and Consumer Services emergency hotline at 866-645-9403.
Hurricane Florence Update Equine Evacuations
Due to the change in path of Hurricane Florence, the Hunt Horse Complex at the State Fairgrounds in Raleigh is opening as an equine evacuation site until safe for evacuated horses to be returned to their farms or September 24, 2018, when it's closed to prepare for the N.C. State Fair Horse Shows.
The complex will be accepting reservations for horses by telephone. Stalls may be reserved by calling the Hunt Horse Complex Public Safety team at 919-612-6767.
PLEASE call ahead to determine space availability before arriving. The Hunt Horse Complex will be offering housing ONLY. Owners will need to bring all provisions for their animals.
Reduced pricing structure per stall: 1 day – $17, 2 days – $20, 3 days – $23, 4 days – $26, 5 days – $29, and $3 per additional day per stall thereafter. See the Facility Use Agreement/Liability Waiver Form that is required for each owner.
Please enter the Hunt Horse Complex off Youth Center Drive to expedite stalling.
The Sen. Bob Martin Ag Center in Williamston is open as an equine evacuation site until 5 p.m. The cost is $10 per horse and $5.50 per bag of shavings with a minimum of two bags.
Call 252-792-5802 for more information. Check-in is at barns E and F and you must have proof of negative Coggins.
Health Certificates Waived for Hurricane Evacuation Animals
Several states including North Carolina have waived some interstate movement requirements for animals being evacuated from hurricane-affected states. These states are temporarily suspending ICVI (health certificate) requirements for the interstate movement of animals and Coggins tests for horses. Click on the link for each state for exceptions and details of hurricane evacuated animals entering that state.
Mass Animal Mortality Management Plan
The Mass Animal Mortality Management Plan for catastrophic natural disasters was developed by the state before Hurricane Matthew.
NCDA
&
CS
has reviewed
and
recommended the plan for mass animal mortality. Click on the links below for guidance on composting mass animal mortality.
A list of the county landfills indicating which animal species are accepted and landfill contact information can be found using the link below.
NCDA&CS Veterinary Division's Livestock Unit
The livestock unit has four regions throughout the state. Attached is the regional map with a list of the Veterinary Medical Officers
and
Animal Health Technicians
and
their contact information.