Marketing Resources
<< N.C. Cooperative Extension Brand Home
Brand Assets
Read through the entire brand site to make sure you understand the standards, guidelines and how everything works before creating materials. These assets are only to be used for official N.C. Cooperative Extension communications.
If you have questions or problems as you use these assets, or if you'd like to request additional resources and templates, please contact us or let us know via the Employee Feedback Form.
DOWNLOAD OUR BRAND "CHEAT SHEET":
Consistency is Key
Consistency is a basic and critical marketing concept that is often neglected. Consistency helps audiences know the materials are ours and attach that trust and value to Extension.
In print, this means consistent color schemes and the same logo, font and design elements. Electronic and broadcast media use consistent audio (theme music), video (opening montages) and design elements; and print media use consistent design marks.
Being a single entity within a group, such as a county center in a statewide network, can present a tug-of-war between consistency and customization. Creating your own ad formats and communications look is like starting at ground zero and building a brand from scratch.
Review our Visual Identity section for more info on design standards.
Brand Sprokit | Marketing Templates
We are excited to offer a dynamic online marketing templates service called Brand Sprokit. Extension employees can customize an assortment of branded marketing templates, including ads, brochures, cards, fliers, posters, reports and more.
Getting Started with Brand Sprokit
Each local center has been assigned a shared account for everyone at that location to use when creating materials in Brand Sprokit.
For security purposes, please find your account login information here:
You will need to login to this page with your Unity ID.

Once you have your account information, you can login to Brand Sprokit here.
Watch a Brand Sprokit Overview Video
Skip to specific topics within the video:
0:30 – How to Access/Login to Brand Sprokit
1:43 – Finding and Reviewing Templates
3:30 – How to Start/Create a New Project
5:40 – Adding Images to a Project
8:23 – Finalizing and Exporting Projects
Adding Required Statements
Employees will need to add certain statement(s) – a cost statement, for example – within the templates at times.
We've omitted these statements (except the non-discrimination statement, which must appear on everything) because most of the templates can be used for various purposes and may not require the same statement(s) each time.
For example, a flier template may require both a cost and accessibility statement for a large event announcement, but that same template might require neither statement in another scenario. This also creates flexibility to place required statements where they fit best within your content.
Review the Referencing Extension pages for N.C. Cooperative Extension and NC State Extension for guidelines on required statements.
Naming and Managing Projects
When creating a new project, make sure to name/save the project with your county name included. For example, "Adams County | Local Programs Brochure."
Currently, users can view projects created by other counties in their district in the system. This is a result of the way our accounts are set up with the vendor, so it's important to name your projects appropriately so they can be easily found and edited as needed.
I Have Other Questions…
Email Signature
You can include a logo image as part of your email signature. When used this way, the logo should appear at the bottom of the email signature, below all the other elements of the signature.
ADDING THE LOGO TO YOUR EMAIL SIGNATURE (within Google Mail):
Download the logo image to your desktop computer.
Go to your email settings, scroll down to the "Signature" section and enter your signature text in the text field. If you already have an email signature, verify that the information is correct.
To properly format your signature text, use your mouse to select it all, and then use the formatting buttons directly above the text field to select the Sans Serif font at normal size.
To insert the logo image, position your blinking cursor two lines below the last line of text in your signature. Then click the Insert Image icon (next to the Link icon) and upload the image file from your computer.
Click Save Changes at the bottom of the page.
EMAIL SIGNATURE GUIDELINES
DOWNLOAD LOGO FOR EMAIL SIGNATURE (.JPG)
Either of the above layouts is acceptable for anyone.
You can add additional contact info, such as a fax line or mobile phone, if necessary for your clients.
You should not use embellishments like italics or cursive in any part of your signature (only the "Sans Serif" font at normal size in Gmail settings).
Don't resize the logo image, and keep it on a line by itself without any other text or graphics on the same line.
Refrain from adding any additional graphics/images under your signature, such as social media icons. This also includes quotes.
Remember that some email clients don't display images; your contact information should always be in the form of text, not images.
Email Templates (Constant Contact)
Use our custom Constant Contact email templates to facilitate impactful, on-brand digital communications with your clients, partners and target audiences. Be sure to stick with the correct fonts, which include Arial, as well as Gotham and Univers (when available).
Getting Started
Once logged in, click the gold "Create" button at the top right.
Choose "Email" as your campaign type.
Select the "Extension Templates" tab/folder (under the search bar to the right of the Standard Templates tab).
Pick the template that's appropriate for your email campaign, then you're ready to create your message!
Forgot your Constant Contact login info? Visit the Brand Sprokit Access page to find it (your Constant Contact and Brand Spokit accounts use the same login details).
REMINDER: Our county centers should use the N.C. Cooperative Extension versions as their default templates.Here are the three standard N.C. Cooperative Extension email templates for reference:
What if I Don't Have a Constant Contact Account?
If you do not have a Constant Contact license, contact the Extension Information Technology (EIT) Help Desk to request one at ces_help@ncsu.edu. We strongly encourage our local centers and programs to take advantage of this valuable resource.
Email Marketing Tips
Be mindful of how frequently you send emails to your audiences. Excessive contact will cause fatigue, leading recipients to ignore your messages. Here are some best practices for launching an email campaign.
Enclosure Slips
Download the enclosure slip template for inserting into mailings from your county center or program. The file can be edited in PowerPoint and printed with three enclosure slips per page.
Download the Enclosure Slips Template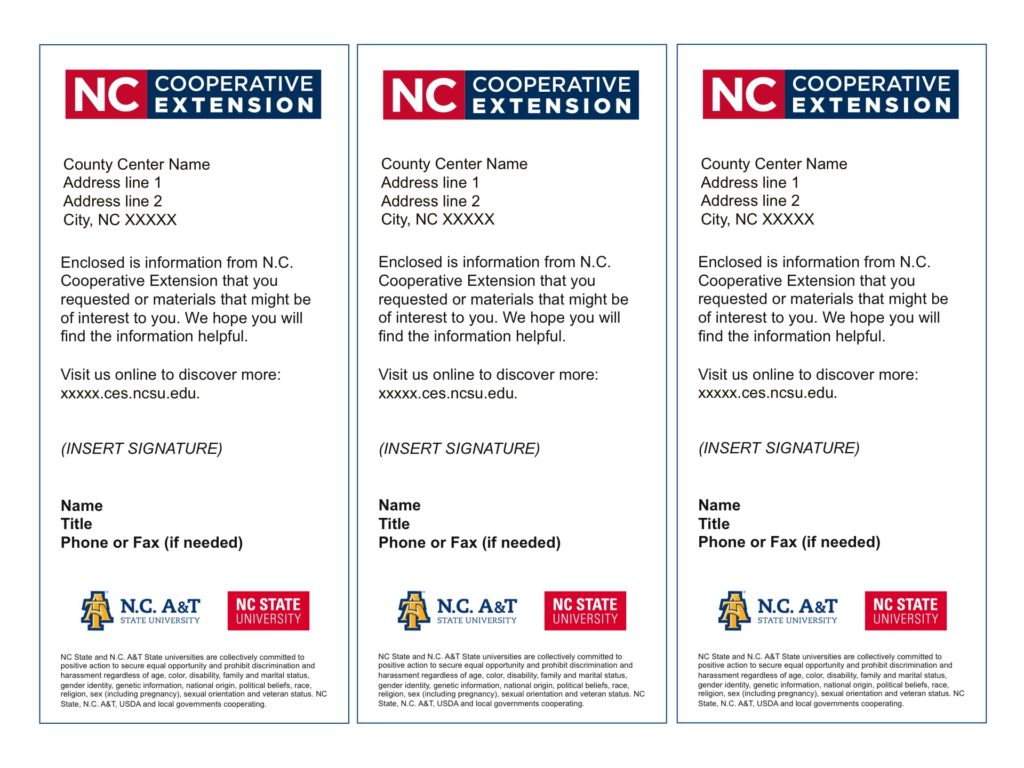 Logos
You can download N.C. Cooperative Extension logos all at once (organized by print and web/Office types) or individually as needed.
The "Print" folder contains EPS files, which are the only logos that should be used for print, as these vector files will maintain print quality at any size.
The JPG logos can be used for Microsoft Office documents, like Word and PowerPoint, or for websites.
Visit the Visual Identity page for detailed logo usage guidelines.
Stacked Logos

Horizontal Logos
Logos without Shadow
Individual Logo Elements
Media / News Releases
Interview Tips
If the opportunity arises to serve as a source for a media outlet (whether it's a local newspaper or a national trade publication), take time to review these tips before providing an interview.
Know who the reporter is and what organization they represent.
Ask what the story will be about and when their deadline is.
Determine whether you are knowledgeable to do the interview or if you need to refer to someone else.
Develop three key messages and supporting points for these messages.
Anticipate tough questions and practice answering them with your key messages.
Don't assume reporter knowledge; consider providing key points in writing.
If a reporter asks a question that you don't want to answer, bridge to a response that gets across one of your key messages.
Be prepared. Stick to key messages, talk slowly and lead with the bottom line.
Avoid "no comment."
Tell the truth.
We are also available to assist with media relations and story development. Contact us to learn more or discuss a media opportunity.
Justin Moore
Director of Marketing & Communications | NC State Extension
919.515.1371
justin_moore@ncsu.edu

Cathy Hill
Agricultural Communications Director | Cooperative Extension at N.C. A&T State University
College of Agriculture & Environmental Sciences
336.285.4723
chill@ncat.edu
Photos
Utilize our photo galleries as possible and always follow the style guidelines when creating marketing materials. Our images are copyright-protected, on-brand and should not be used for personal purposes.
Find more information about NC State imagery standards and N.C. A&T photography guidelines.
Image Galleries
Royalty-Free Sites
When needed, you can also consider exploring royalty-free image sites. This short list includes sites that offer freely-licensed visual media content, though fees may be applied to certain pics in some situations.
PowerPoint Templates
Promos and Signage
Employees can quickly and easily order from a selection of N.C. Cooperative Extension marketing and promotional materials from our state vendor, The Roberts Group.
Visit the Ordering Promotional Items page for a list of some of the most requested resources, such as stickers, table covers and county center signage.
The Stationery section of this page outlines other related items, including business cards, envelopes, letterhead, name badges and "thank you" cards.
Publications
In an effort to improve the availability and distribution of printed Extension publications, we are continually revamping our service model to serve you.
Visit the Order Extension Publications page for the latest guidelines on requesting all printed publications, including the N.C. Agricultural Chemicals Manual, Pest Control for Professional Turfgrass Managers and others.
Order More Consumer Extension Publications at Wolf Xpress
You can also view electronic versions of all publications via the NC State Extension Publications Resource Catalog.
Social Media Assets
We will soon release new graphic elements to help you brand your social media channels. All images will be pre-sized and upload-ready for your channels – stay tuned!
In the meantime, we provide a sizing chart below to help you develop imagery for your local/program YouTube channels. YouTube banner images are more complex than other social channels, but these sizing guidelines should help you identify and scale appropriate images.
Download YouTube Channel Art Sizing Template
You can also refer to the NC State Social Media Site for additional information, including best practices, the university's social media policy and how to register your account to be officially recognized by the university and listed on the site.
Stationery
Business Cards
N.C. Cooperative Extension business cards are available through The Roberts Group at any time.
Extension Administration will cover the cost of a new employee's first order of business cards, just add a comment in the order form and the cards will be invoiced appropriately.
*The following cards are for NC State county employees:
Contact The Roberts Group directly with questions and orders:
Cody Williams
cody@robertsgrouponline.com
*N.C. A&T county employees should contact Barbara Board for guidance on ordering business cards.

Envelopes
Employees may order envelopes at any time; orders are no longer being placed centrally on a quarterly basis. Wolf Xpress is the official vendor of N.C. Cooperative Extension envelopes.
When ordering envelopes, please order directly through Wolf Xpress following the instructions outlined below. You needn't send orders to Extension Administration or CALS Communications.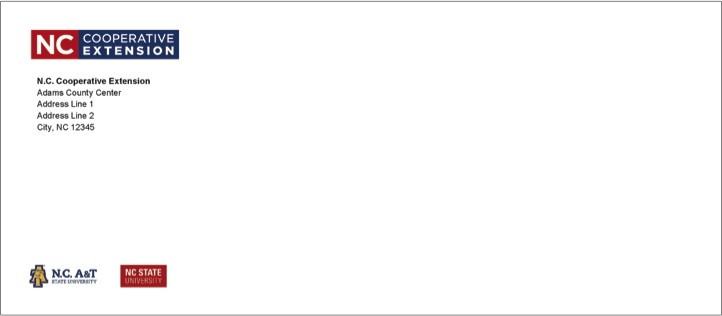 *Please allow up to 2-3 weeks for delivery.
Letterhead
We encourage employees to print letterhead as needed at your local office. However, if your office has insufficient print capabilities or you need larger quantities, you may place orders through Wolf Xpress for letterhead as well.
Wolf Xpress Contact
Wolf Xpress website
Email | Teri Hellmann
Phone | 919-515-2131
Fax | 919-515-7272
Name Badges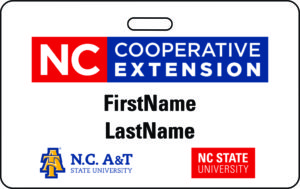 Employees may submit new or replacement badge requests any time using the online order form below. Extension administration funds new employee badges at this time.
Online Order Form | Name Badge
Vendor contact information is also provided if you have questions or issues:
Cody Williams
cody@robertsgrouponline.com
Temporary Name Tags
In addition, employees can download a Name Tag Template (PDF) for creating quick name tags for meetings, workshops, etc. These are intended for non-regular use by visitors or employees who need a badge on short notice; employees should order permanent badges for themselves from our vendor using the form above.
Thank You Cards
Employees have a few options for creating and/or ordering cards that can be used as announcements, greetings or thank yous. Below is a sample proof for a 5.5″ x 4.25″ folded card, which is available through our state vendor, The Roberts Group.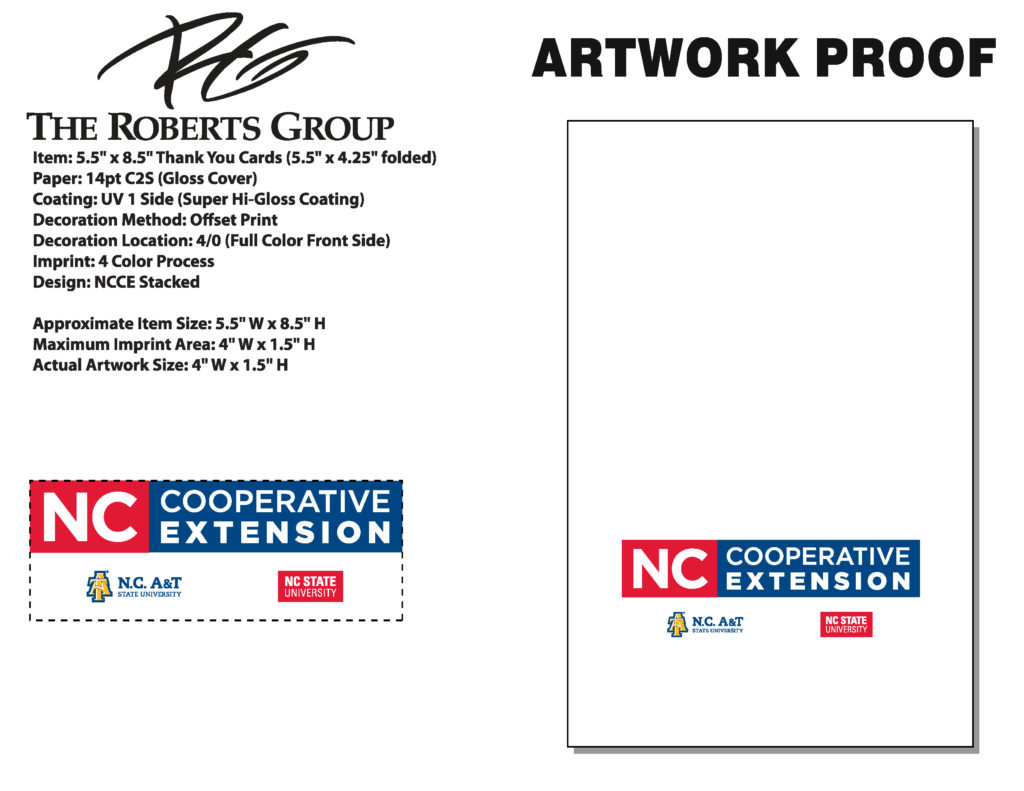 Pricing may vary over time, but The Roberts Group charges $0.25/ea. for 500 cards, plus an additional $0.10/ea. for blank white envelopes (total of about $175 for 500 cards and envelopes). You can contact our vendor representative – Cody Williams (cody@robertsgrouponline.com) – to place an order.
Brand Sprokit Cards
Our Brand Sprokit marketing templates system includes multiple card layouts that you can customize, export as PDFs and print/send to a vendor as needed. Find more information on accessing and utilizing Brand Sprokit here.
Video Assets
Video Editing Resources
The assets below will help you create consistent, professional N.C. Cooperative Extension videos that build our brand identity across the state.
Lower Third Generator
This tool will help you generate an image file (JPG), which can be downloaded and used in your video as a lower third (i.e. a title box).
Intro and Outro Bumpers
One of these graphics should be used as the intro and closing frames for all N.C. Cooperative Extension videos.
N.C. Cooperative Extension Videos
These videos are housed on YouTube for easier embedding on sites and sharing with audiences through presentations, events or email marketing efforts that showcase our N.C. Cooperative Extension partnership.
To get the video link and access other sharing options, click the curved arrow icon at the top right of each video player box. Contact us if you need original video files (.mp4).
N.C. Cooperative Extension | Service Vision
Growing North Carolina with Our County Partners | N.C. Cooperative Extension
Margaret Spellings Touts Cooperative Extension's Value to North Carolina
Cooperative Extension at N.C. A&T
Comments or Questions
This site will be updated on a consistent basis to provide you with the most relevant and useful tools and information. Please bookmark the page and check back regularly.
Justin Moore
Director of Marketing and Communication
NC State Extension
tjmoore3@ncsu.edu
If you have suggestions for other resources or questions about the current items, you can also share your feedback via the Employee Feedback Form.