2019 NC Aquaculture Development Conference Scheduled
Find this article at:
go.ncsu.edu/readext?589340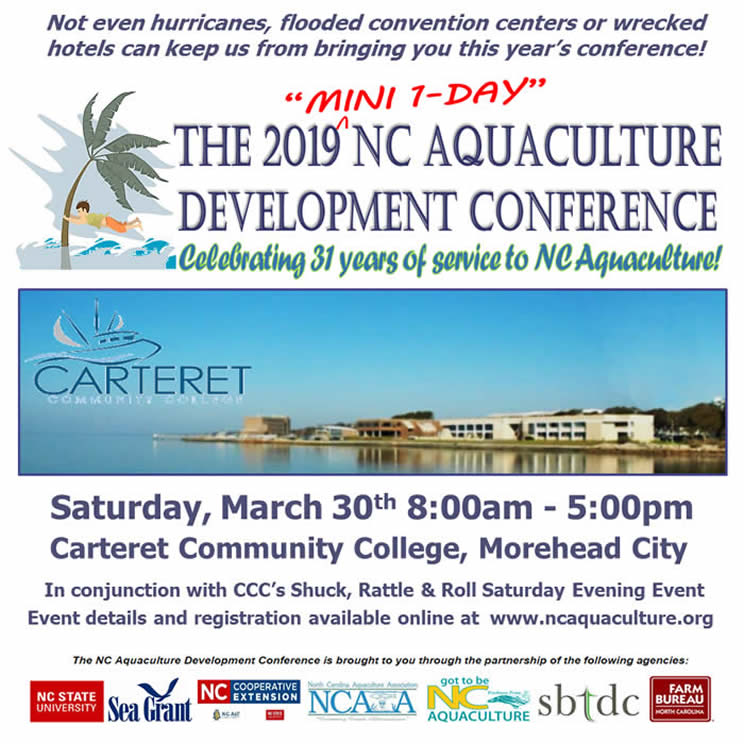 Due to circumstances beyond our control, the NC Aquaculture Development Conference Planning Committee has been forced to cancel the "full, 3-day" conference event. However, we will offer a one-day event for producers and those interested in the North Carolina aquaculture industry.
Please make plans to attend the 2019 "mini, 1-day" North Carolina Aquaculture Development Conference. The event is scheduled for Saturday, March 30th at Carteret Community College in Morehead City from 8 a.m.–5 p.m. This 1-day event will include concurrent sessions for both freshwater aquaculture and mariculture… AND, for those distraught about not having the all-you-can-eat smorgasbord that is the NC Cultured Seafood Festival, Carteret Community College (CCC) will be offering a separate event, "Shuck, Rattle & Roll," 5:30 p.m. at the conclusion of our Saturday agenda that should fill the need for your seafood hunger!
"Shuck, Rattle & Roll" will feature seafood produced by current and former CCC Aquaculture students, including raw bar oyster and clams, soft-shell crabs, striped bass, steamed shrimp, steamed oysters, clams, and more! For more information on the "Shuck, Rattle & Roll" event, you can go online.
Apologies for not being able to bring you our 'traditional' 3-day conference, but we are still dealing with the aftermath of Hurricane Florence. We feel this is going to be a great event and wanted to continue our service to the North Carolina Aquaculture industry. Hope to see you there!
Information about the Conference:
This conference is designed to bring together the general public, current and prospective fish farmers, scientists, and personnel from regulatory agencies to share information and ideas about the development of aquaculture in North Carolina. Attendees will learn about several topics relevant to aquaculture species in North Carolina. For more information and to register for the Conference, go to the NC Aquaculture site. Registration is only $20 and covers the cost of a fried oyster and catfish lunch.
Who Should Attend:
Anyone with an interest in fish or shellfish farming, including prospective growers, researchers, teachers, students, or agency persons with jobs related to aquaculture. The conference is also suited to persons who sell goods or services to the aquaculture industry.